Posted by
Kathryn Bashaar
on Apr 13th, 2019 in
Blog
|
0 comments
While I'm working on my own second historical novel, Righteous, I still read a lot of historical fiction.  It is my favorite genre.  Here are my nominations for the ten best historical novels.  Enjoy at least one of them soon!
Katherine by Anya Seton
I can't list my favorite novel of all time, Jane Eyre, because it is not historical.  It was contemporary at the time when it was written.  But my second favorite, Katherine, has a plot that is weirdly similar to Jane Eyre.  Both Katherine and Jane fall in love with a married man.  They are both governess to their lover's child. Both must painfully separate from him as a matter of principle.  And both are (spoiler alert) reunited with their lover later in life.  Katherine and Jane are women with both principles and passion, and I truly believe that these two books helped to form my own character.  I first read Jane Eyre when I was 11 and Katherine when I was 15, and I return to both and re-read them every 10-15 years. Find out more about this book
The Nightingale by Kristin Hannah
This novel about two sisters trapped the horrors of Nazi-occupied France deeply touched me. Hannah is absolutely unsparing of her characters. The sisters both endure and commit unspeakably horrible acts. This book unmercifully portrays the way women suffer under war and occupation, and it broke my heart to think of women in Syria and other strife-torn parts of the world who are still enduring theses horrors right this minute. Find out more about this this book. Find out more about this book.
The Pillars of the Earth by Ken Follett
I love this book so much I've read it 3 times since it came out in the 1990s. The historical setting of feudal England is very vivid, the characters are very likable and the justice at the end is extremely satisfying. Follett does a wonderful job of putting his characters in danger and making you really root for them. When I wrote my first novel, The Saint's Mistress, I aspired to this kind of writing. Find out more about this book
Cold Mountain by Charles Frazier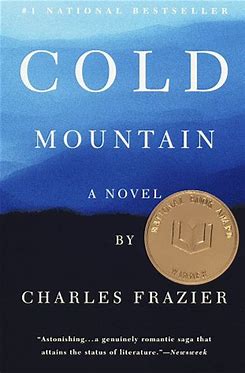 I've read this one twice. It's the story of a deserter from the Confederate Army on his way home to his beloved. Similar to The Nightingale, the author is unmerciful with his characters in this book. The cruelty of war comes through loud and clear. What I loved is the message of the book: that life is full of both light and darkness, and the joy is worth every minute of the suffering. Find out more about this book.
The Justification of Johann Gutenberg by Blake Morrison
After I finished my first novel, I considered writing about Gutenberg for my second novel. Then I came across this book, and I realized I could not top it. This is a wonderful novelization of a real historical character's life. We think of Gutenberg as a hero who brought literacy to the masses, but he was also a man who had to make a living, and he was a very flawed human being. Morrison makes that clear; we see Gutenberg as both generous and mean, brilliant and petty. My second novel is about another very flawed character, and this book is my inspiration for how to write that kind of person. Find out more about this book
The Treasure of Montsegur by Sophy Burnham
I read this book while travelling in Languedoc, where it takes place. The main character is a Cathar, a heretical sect of the Catholic church in the 13th century. Telling her story in the first person from the perspective of old age, Jeanne is a flawed character, similar to Gutenberg. She is introspective and frank about her own flaws. I liked how her spiritual life brought her contentment in her old age, in spite of poverty and persecution. Find out more about this book.
Year of Wonders by Geraldine Brooks
I've read this one twice, too. It is the story of how the 17th-century plague impacts a small English village. The language in the book is beautiful, and the main character, Anna, is a humble, poorly educated late-medieval woman but so likable, smart and brave. I loved how she was allowed to grow over the course of the story. Find out more about this book.
The Signature of All Things by Elizabeth Gilbert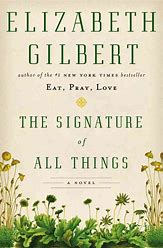 Alma is a wonderful main character and her life story includes a mid-life hero's journey. Gilbert places her character in the middle of the intellectual ferment of the 19th century, especially the profound insights about evolution, and makes Alma's intellectual quest every bit as fascinating and dramatic as the love story aspects. For many years, Alma lives in a very small world, where, to have any scope at all, she must live deeply rather than broadly. A testament to female intellect. Find out more about this book.
All the Light We Cannot See by Anthony Doerr
The story of a blind French girl and a young German soldier in WW2. No, don't roll your eyes and think of Nicholas Sparks or something. This is one of the closest-to-perfect books I have ever read. The writing is gorgeous, and the story was absolutely perfectly plotted. The hours leading up to the story's climax in 1944 are flawlessly interwoven with the longer-term story that starts in the 1930s. And the story has a moral core, which I always love in a book. Find out more about this book.
The Spectrum by Gary Link
Full disclosure: I know this author. But I would not put this book on my top ten list if it didn't belong there. This book is actually the second in a series, and is the best in the series. The main character, John Parker, is a Pittsburgh constable in the 1840s. A man of deep integrity, Parker also carries inside him a hidden heartache. The setting is well-researched, and the themes of nativism and the real meaning of the American experiment are timely. Find out more about this book. e