Here are some photos from our trip to Italy in 2009 to complete initial research for the Saint's Mistress.
Some views of the remains of the baptistery where Augustine was baptised by Saint Ambrose the night of April 23, 387 (Easter Saturday was the traditional baptismal date in the early church).  The baptism took place in an earlier church that once stood on the site of Milan's present-day Duomo, and the remains of the font can be viewed in the basement of the Duomo.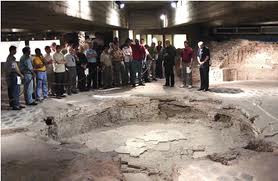 Here's a reconstruction of what the baptistery would have looked like originally.
Views of Milan's Basilica of San Ambrosius, originally built by Saint Ambrose in 379-86.  Current building dates to the 12th century.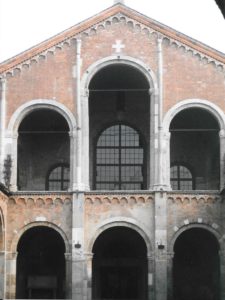 Beautiful early-Christian mosaic in Milan's Basilica of San Lorenzo.  Parts of the current building date to the 5th and 6th centuries.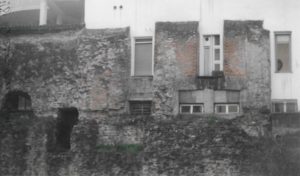 Remains of Milan's city wall, which dates from the Roman era.  Note how modern structures are built right on top of remains of Roman structures.  We saw a lot of that in Italy.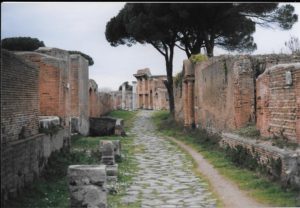 Remains of Ostia.  The city of Ostia was the port of Rome in Augustine's time, but was abandoned later when the course of the Tiber River changed.  Because the city was completely abandoned, the building materials weren't reused, as was so often the case in other Roman-era cities, and so the remains are exceptionally well-preserved.  Augustine, Adeo and Monica traveled there in 387, waiting to embark for a return to North Africa.  Monica caught a fever and died there.  Her remains were originally buried in Ostia, but later moved to the Basilica di Sant'Agostino in Rome.
One of my favorite pictures from Ostia:  my husband behind the counter of an ancient fast food shop. This was one of the similarities between life in late antiquity and our modern life that most delighted me:  they had fast food!  Their version of a takeout container was cheap clay pottery, which became landfill very similar to the styrofoam containers of today.