Posted by
Kathryn Bashaar
on Jun 18th, 2017 in
Blog
|
0 comments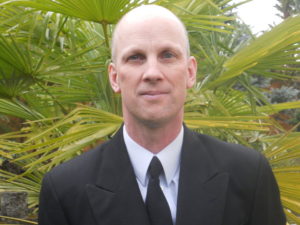 The man pictured at left is Ricky John Best.  Remember him if you ever think America has completely lost its way. 
On May 26, three men were stabbed on a Portland light-rail train when they tried to defend two young women from anti-Muslim harassment.  These men were heroes, every bit as much as our police, firefighters and soldiers, every bit as much as the passengers on Flight 93 on 9/11/01.  They were the kind of ordinary, decent guys who represent the best in America.  They deserve to be remembered.
Ricky John Best died in the train car.  The 53-year-old father of 4 was a Portland city employee and a 23-year Army veteran.  His son Erik said, "He died fighting the good fight, protecting the innocent.  Honestly, that's what he probably wanted."
Taliesin Myrddin Namkai Meche, 23, died at a Portland hospital shortly after the attack.  A recent college graduate, he worked for the consulting firm Cadmus Group.  His last words were, "Tell everyone on this train I love them."
Micah David-Cole Fletcher survived the attack.  Fletcher is a student at Portland State University and won a poetry contest in high school with a poem about Islamophobia. A friend said of him, "If there's a march or protest happening, he's the one calling me to see where I'm at…He's just against injustice, that's his personality."
Another hero is Rachel Macy, who stayed with Namkai-Meche as he bled, praying for him and assuring him that he wasn't alone. 
As for the attacker, he doesn't deserve to have his name mentioned, nor to have his vile rant quoted.  He represents thoroughly anti-American values, is unworthy of the sacrifices of our heroes throughout our 241-year history, and deserves a lifetime in prison.
Ricky, Teliesin and Micah represent an America where the weak and innocent are protected, where religious and racial minorities are welcomed and respected, and where common decency is the norm.
They represent the America that crowdfunded $1 million for their families within just a few days of the attack.  They represent the America where hundreds gathered in a candlelight vigil to honor them near the Hollywood Transit Station where the attacks took place. They represent the Bilal Mosque in Beaverton, Oregon, which has also set up a fund for the victims' families.
Rachel Macy reported that all 3 men tried to position themselves between the attacker and the two girls he was yelling at.  These were regular guys.  Only one of them was a trained soldier.  Any of us can do exactly what they did.    Here's a link to a cartoon that describes in a simple visual what to do to defend our values of tolerance, respect and kindness towards all, just like Rick, Teliesin and Micah: FIGHT ISLAMOPHOBIA