Posted by
Kathryn Bashaar
on Nov 23rd, 2019 in
Blog
|
2 comments
Recently, in our search for interesting Western Pennsylvania history, Al and I have been following local creeks and runs. When we left Chartiers Creek in my last blog post, it had turned into a robust waterway in Houston, PA.  On a blustery November day, we rejoined the creek just north of Houston in Canonsburg. 
Chartiers Creek in Canonsburg
Named for its first settler, John Canon, who arrived in the area in 1773, Canonsburg is almost as old as Pittsburgh.  Legend says that George Washington passed through in 1777.  The town's first main street, Pike Street (also known as the Pittsburgh-Washington Pike) was laid out in 1787.  A grist mill stood on the creek along present-day South Central Ave. just south of the pike.
The current grounds of Canon-McMillian High School were once the site of the Black Horse Tavern.  In the 18th century, the Pittsburgh-Washington Pike was sometimes known as Black Horse Road, and the tavern was surely named after the road. Founded in 1794 by Henry Westby, the remains of the tavern still stood until the high school was built in 1958.  During the Whiskey Rebellion in 1794, local rebels met at the tavern to plan attacks on federal forces.  They also intercepted mail coming to the federal leaders from Philadelphia.
Canonsburg was also the home of Jefferson College, originally a sister school to Washington College in Washington, PA.  Both schools ran into financial difficulties during the Civil War, and they merged in 1865, forming Washington & Jefferson College.  The home of one of the Jefferson College founders still stands:  John McMillan's 1780 log house is preserved on East College St.  Nearby stands the Roberts House, whose original wing dates to 1802. 
Black Horse Tavern in Canonsburg

Chartiers Creek at Approximate site of 1791 grist mill
Pike St 1898

Pike St today
McMillan 1780 log house

1802 Roberts house
Home to coal mines and steel mills in the 19th and 20th centuries, Canonsburg is best known in the 21st century for Sarris Candy and All-Clad kitchenware – and for its Independence Day parade.  The town of about 9000 residents attracts as many as 60,000 for its elaborate parade.
Canonsburg Independence Day
The Lake and Montour Trail
After a very pretty drive out of Canonsburg, the creek sprawls into Canonsburg Lake before slimming down into a river again as it enters Allegheny County.  Alcoa Corp. created the dam and lake in 1943 to create a freshwater reservoir for their Canonsburg Forging Plant. The Pennsylvania Fish and Boat Commission acquired it from Alcoa in 1957.  
Flotilla of ducks on Canonsburg Lake
We stopped on our way north and hiked a little way on the Montour Trail for some lovely views of the creek.  It is shallow in this section and ripples over rocks very prettily.  Let's just say that our car desperately needed a wash after the drive to the trail head parking off Linwood Road.  I recommend parking at a different trail head if you're fussy about your car, but it was worth it to us for the views of the creek.
Chartiers Creek flowing along Montour Trail
Chartiers Creek in Bridgeville
Chartiers Creek finally winds into Allegheny County!
The creek follows its crooked path behind Queen of Heaven cemetery and through Forest Valley golf course before entering Allegheny county near the border of South Fayette and Upper Saint Clair townships.  It then enters another old town that is named for the first bridge to cross the creek:  Bridgeville.  The bridge went up some time in the 1790s, and references to "Bridgeville" appear in newspapers by the 1830s.  Here is a link to an excellent article that provides details of how the bridge came to be at that location.
There's been a bridge at this site since the 1790s

Approximate site of 1851 woolen mill
The bridge sparked growth in the little town that bore its name. It soon boasted forges, factories and a woolen mill at the corner of Bank St. and Washington Avenue (Pittsburgh-Washington Pike).
After our long drive and our hike, Al and I felt hungry, so we stopped for a late lunch at LaBella Bean.  Yummy chai latte and ham-and-brie panini with raspberry jam!
Chartiers Creek in Scott Township
As I said in my last post, wherever you see a creek in Western Pennsylvania, you can be sure that a coal mine operated not far away, and that proved true as we entered Scott Township on our drive.  We spotted a mine entrance right on Bower Hill Road. 
Scott Township and Mt. Lebanon split off from Upper Saint Clair Township in 1860.  By 1883, coal mining was Scott's main business.  A partial list of mining companies includes Glendale Colliery, Nixon Mines, Diamond Mines, Summer Hill Mines and Bower Hills Mine (probably the one we saw).  The community also boasted a bottle factory, Leasdale Glass, and the Chartiers Valley Railroad, which serviced the mines. 
Yep, we're in Western PA: it's another abandoned coal mine.

The creek is kind of puny near the mine
John Neville's homes both stood in Scott.  A Virginia native, Neville arrived in Pittsburgh in 1774 to command the Virginia troops at Fort Dunmore (later remained Fort Pitt), and started construction of his home, Woodville, around the same time.  His home at Woodville survives on Washington Pike and was occupied until 1975.  The house opens for tours only on Sundays, but Al and I spent an enjoyable hour poking around the grounds.
Neville later built another home, Bower Hill, near the current location of Kane Hospital and Our Lady of Grace Church. At the time, Neville was one of the largest landowners in Western Pennsylvania. He owned 10,000 contiguous acres in present-day Mt. Lebanon, Scott, Carnegie, Rennerdale and Bridgeville.
Woodville Plantation

Chartiers Creek near Woodvile
In this neighborhood, however, you can't get away from the Whiskey Rebellion any more than you can get away from coal miles.  Neville was on the "wrong" side of the Whiskey Rebellion and the rebels burned Bower Hill during the rebellion in 1794.
Al and I have spent two full days exploring Chartiers Creek, and we're still not done! Stay tuned for the twists and turns of the creek as it makes it was through Carnegie and Crafton and finally empties into the Ohio River at McKees Rocks.
Sources
https://en.wikipedia.org/wiki/Canonsburg_Lake
http://history.rays-place.com/pa/wash-canonsburg.htm
https://en.wikipedia.org/wiki/Canonsburg,_Pennsylvania
http://www.bridgevillehistory.org/
http://www.bridgevillehistory.org/waterunderthebridge.html
Posted by
Kathryn Bashaar
on Nov 2nd, 2019 in
Blog
|
0 comments
Al and I had so much fun driving the course of Saw Mill Run that we decided to take on a bigger challenge:  Chartiers Creek.  Saw Mill Run, with a watershed entirely within Allegheny County, is only about 9 miles long.  Chartiers Creek runs a 38-mile course in Washington County before it even flows into Allegheny County, where it empties into the Ohio River.
The creek and the former Chartiers Township, from which many western Allegheny County townships were formed, were named for Pierre (or Peter) Chartiers, a half-French, half-Shawnee trader who established a trading post on the creek in the early 1730s. (Learn more about Peter Chartiers here).
Chartiers Creek in Rural Washington County
Al and I started our drive on a beautiful fall day that showed off rural Washington County at its best.  Those who can afford to do so build their homes on hilltops with huge banks of windows that look out on the rolling green hills of farmsteads, winding tar-and-chip country roads, and trees ablaze in gold, bronze and red. 
The creek is born as a tiny trickle along Route 18. A couple of miles along, it is still a very tame little stream as it wanders through the golf course of the Lone Pine Country Club. In North Franklin Township, it starts to gain steam, fed by another trickle from a large reservoir. It then passes through the county seat of Washington, PA.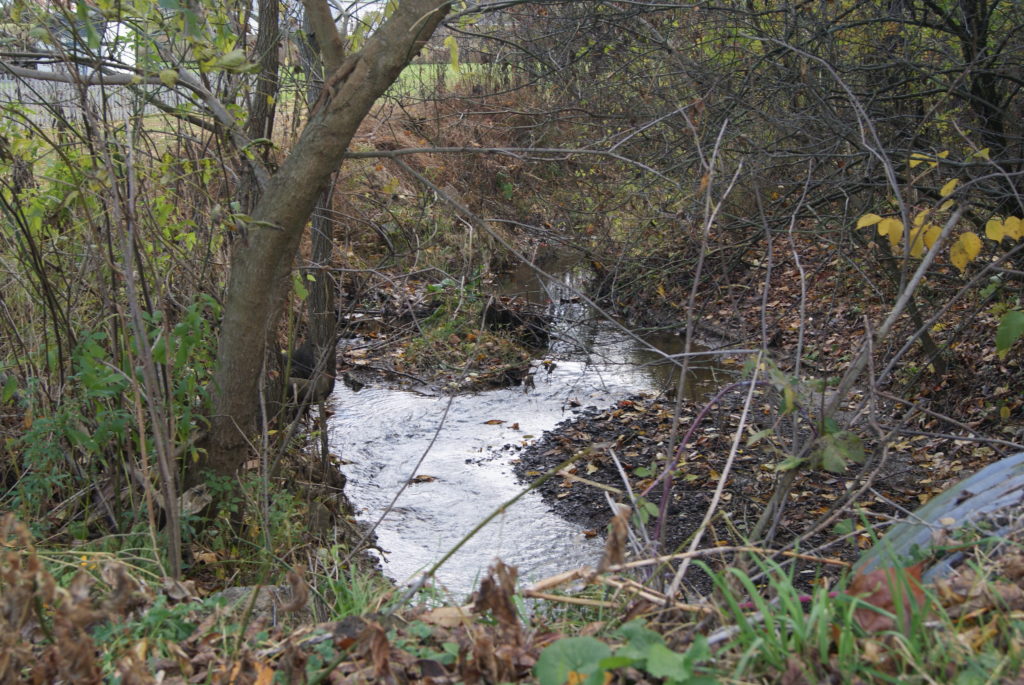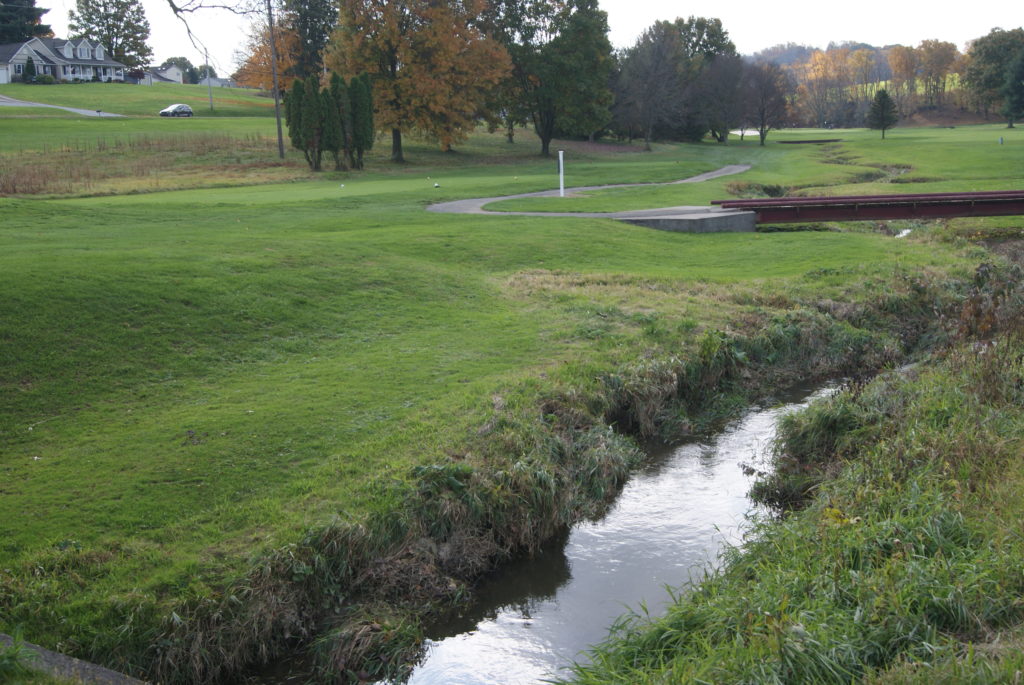 Chartiers Creek in Washington, PA
Washington is one of the many medium-sized towns in western Pennsylvania that prospered in the 19th and early 20th centuries, but have since suffered from the decline of heavy industry, the rise of suburban sprawl and malls, and then the age of internet shopping.  For a while, the county offices and Washington & Jefferson College seemed to be all that kept it afloat.  But Washington is fighting back (see this recent article in the Pittsburgh Post-Gazette).  They're making the most of their Whiskey Rebellion and abolitionist heritage by maintaining the LeMoyne House and the Bradford House.  Wineries, breweries and distilleries have opened in the past few years.  Al and I toured the Liberty Pole Distillery a couple of months ago with our daughter and son-in-law, and I highly recommend the tour and tasting. 
During our Chartiers Creek drive, Al and I had lunch at the Union Grill in downtown Washington.  It has a bit of a speakeasy vibe, with its art-deco stained glass, and the entrance at below street level.  Pictures of Washington County history hang on the walls.  Al's steak sandwich and my chicken & artichoke pizza were very good, and their house-made chips were the best we've ever had:  super-crisp with just the right amount of salt. Our server, Debbie, was personable and friendly, and sent us home with an extra box of chips at no charge!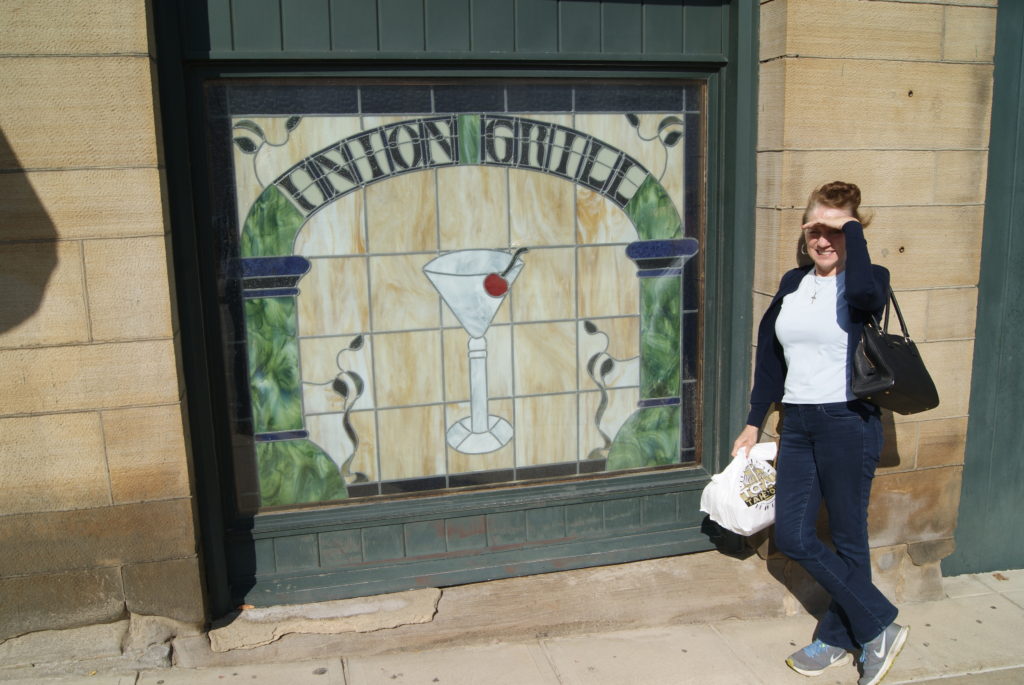 The creek itself is still shallow and kind of lazy in Washington, but it starts gaining some muscle near Houston, PA, where it is fed by Plum Run and Chartiers Run.  By the time we left it in Canonsburg, it looked like a real-grown-up river.  It was mid-afternoon when we drove through Canonsburg, and we'd started our drive at mid-morning, so we decided to call it a day and head for Route 79.  After our meander down the country roads of Washington County, we were ready for the express route home.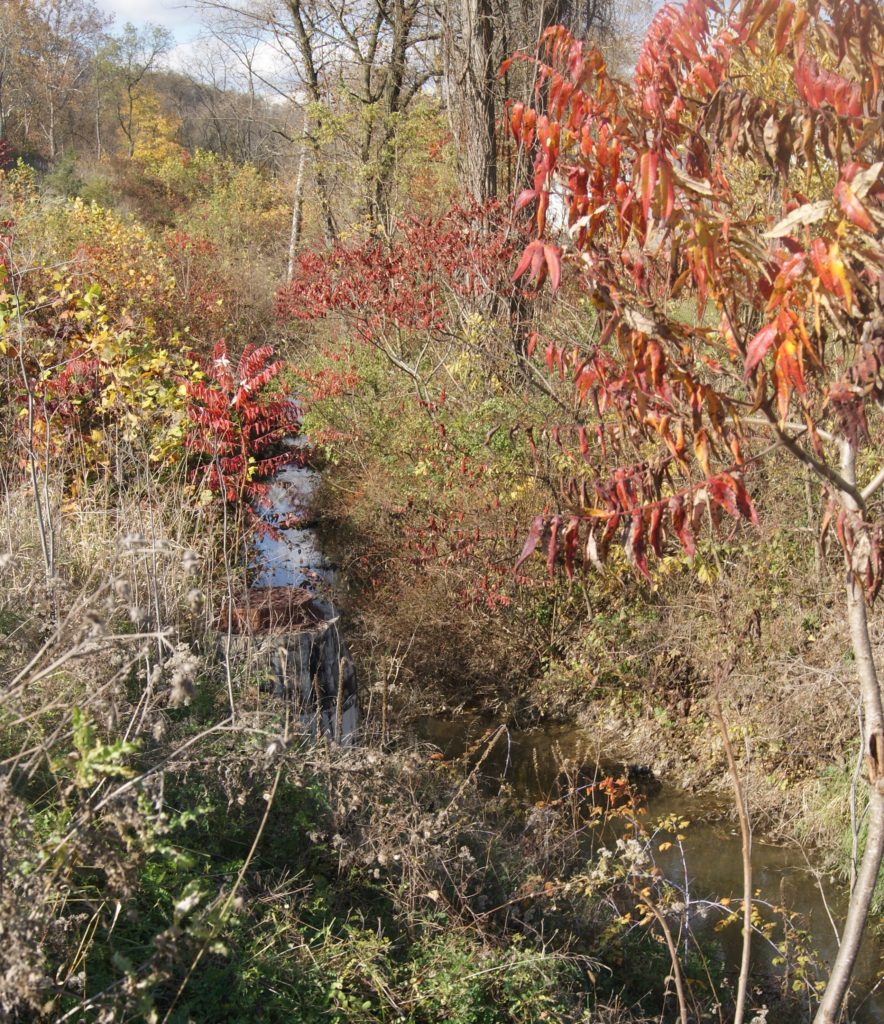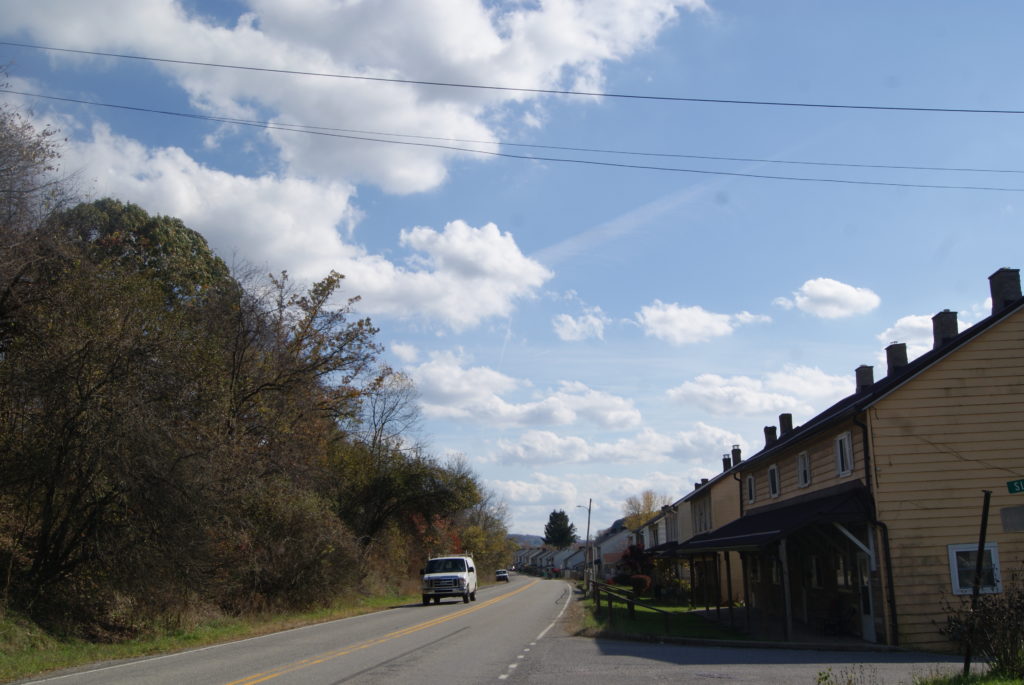 But we'll be back to drive the rest of the creek's route through northern Washington County and Allegheny County, all the way to my birthplace, McKees Rocks, where it joins the Ohio River. Stay tuned!
Sources
http://www.co.washington.pa.us/233/County-History
https://en.wikipedia.org/wiki/Peter_Chartier