Posted by
Kathryn Bashaar
on Jun 25th, 2017 in
Blog
|
1 comment
When she was in her 20s, Dorothy Day would have seemed like a long-shot for sainthood.  She lived a bohemian lifestyle including multiple lovers, an abortion and a child born outside of marriage – and this was in the 1920s, when society didn't exactly shrug at that as we do today.  She was, at various times, either an Anarchist or a Socialist.
But…raised in a non-church-going family, Dorothy had had an interest in religion as a child, and her spirituality was re-awakened with the birth of her own child.  And her sense of social injustice had been kindled by her encounters with the poor and working class during her years as a pacifist, Socialist and suffragette.
As she approached 30, Dorothy became very attracted to Catholicism and received baptism in 1927.  Never one to do anything by half measures, she took very seriously Christ's injunction to feed the hungry, clothe the naked and care for the sick and the stranger.
With Peter Maurin, she co-founded the Catholic Worker newspaper in 1933.  The Catholic Worker advocated for the poor and the working class.  Day and Maurin argued against both big business and big government, and tried to present an alternative economic vision that in many ways harkened back to early-19th century America: small farms, small businesses, widespread property ownership, and a reliance on the individual, the family and the community.
Day and Maurin advocated for the lower classes in their deeds as well as their words.   They embraced "holy poverty" in their own lives.  They refused to accept advertising in The Catholic Worker and the newspaper's staff was unpaid.  Most of the proceeds from the Worker (which had a peak circulation of 190,000 in 1938) funded Hospitality Houses in the Lower East Side of Manhattan, which provided food and clothing to the poor of the community.  They also founded Catholic Worker farms, where the sick and homeless could recover and the idle could find useful work.
The Worker's extreme pacifism was unpopular during World War Two, and the newspaper's circulation declined significantly.  Peter Maurin died in 1949.  But the Catholic Worker movement lived on.  Over 200 Catholic Worker communities still operate today, in cities and on farms.  Dorothy Day continued her life of writing, activism and holy poverty until her death in 1980.  She was first proposed for sainthood in 1983.  In March 2000, Pope John Paul II approved the case to go forward, which allows her the title "Servant of God".  The formal application for sainthood was received by the United States Conference of Catholic Bishops in 2012 and is still pending.
What I admire most about Dorothy Day is her total fidelity to Christ's words in Matthew 25:40: "Just as you did it to one of the least of these who are members of my family, you did it to me."
What I find most intriguing about her is her opposition to both big business and big government, her ultimate rejection of Socialism as well as her rejection of rampant crony capitalism.  Did Dorothy and Peter imagine some middle way that could be unifying for our Divided States of America in the 21st century?  I plan to do some more reading on this topic, and I will report on it in future blog posts.
Posted by
Kathryn Bashaar
on Jun 18th, 2017 in
Blog
|
0 comments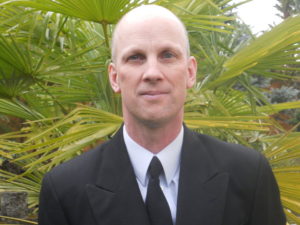 The man pictured at left is Ricky John Best.  Remember him if you ever think America has completely lost its way. 
On May 26, three men were stabbed on a Portland light-rail train when they tried to defend two young women from anti-Muslim harassment.  These men were heroes, every bit as much as our police, firefighters and soldiers, every bit as much as the passengers on Flight 93 on 9/11/01.  They were the kind of ordinary, decent guys who represent the best in America.  They deserve to be remembered.
Ricky John Best died in the train car.  The 53-year-old father of 4 was a Portland city employee and a 23-year Army veteran.  His son Erik said, "He died fighting the good fight, protecting the innocent.  Honestly, that's what he probably wanted."
Taliesin Myrddin Namkai Meche, 23, died at a Portland hospital shortly after the attack.  A recent college graduate, he worked for the consulting firm Cadmus Group.  His last words were, "Tell everyone on this train I love them."
Micah David-Cole Fletcher survived the attack.  Fletcher is a student at Portland State University and won a poetry contest in high school with a poem about Islamophobia. A friend said of him, "If there's a march or protest happening, he's the one calling me to see where I'm at…He's just against injustice, that's his personality."
Another hero is Rachel Macy, who stayed with Namkai-Meche as he bled, praying for him and assuring him that he wasn't alone. 
As for the attacker, he doesn't deserve to have his name mentioned, nor to have his vile rant quoted.  He represents thoroughly anti-American values, is unworthy of the sacrifices of our heroes throughout our 241-year history, and deserves a lifetime in prison.
Ricky, Teliesin and Micah represent an America where the weak and innocent are protected, where religious and racial minorities are welcomed and respected, and where common decency is the norm.
They represent the America that crowdfunded $1 million for their families within just a few days of the attack.  They represent the America where hundreds gathered in a candlelight vigil to honor them near the Hollywood Transit Station where the attacks took place. They represent the Bilal Mosque in Beaverton, Oregon, which has also set up a fund for the victims' families.
Rachel Macy reported that all 3 men tried to position themselves between the attacker and the two girls he was yelling at.  These were regular guys.  Only one of them was a trained soldier.  Any of us can do exactly what they did.    Here's a link to a cartoon that describes in a simple visual what to do to defend our values of tolerance, respect and kindness towards all, just like Rick, Teliesin and Micah: FIGHT ISLAMOPHOBIA
Posted by
Kathryn Bashaar
on Jun 10th, 2017 in
Blog
|
0 comments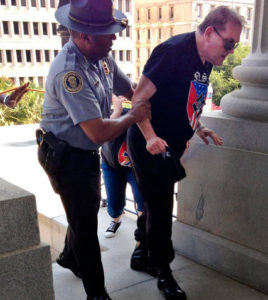 Two years ago next Saturday, white supremacist Dylann Roof was welcomed into a Bible Study at Emanuel African Methodist Episcopal Church, and shot dead 9 people, including the church's senior pastor, State Senator Clementa Pinckney.
The tragedy set off a remarkable chain of events.
First, the relatives of the victims expressed forgiveness towards Roof only days later, at the hearing to set his bond. Read their anguished, redemptive statements HERE.  Their Christian forgiveness takes my breath away, humbles me.  I don't know if I could do the same.
Second, at long last, the Confederate flag, which Roof had taken as his symbol, was removed from the South Carolina State House grounds, and moved to a museum, where it belongs.
At a white supremacist rally to protest the flag removal, a third remarkable thing happened, and that's the story I want to tell here.
LeRoy Smith was the director of the South Caroline Department of Public Safety, and he was working the rally that day to support his subordinates.  It was a hot day, and Smith noticed an older white man who appeared to be overcome by the heat.
The white man was wearing a T-shirt emblazoned with a swastika.
Leroy Smith is African-American.  He had every reason to hate white supremacists. The rally had turned nasty, with catcalls between protesters and counter-protesters, some jostling, even some bottle-throwing.  So, Smith had his hands full, and had every excuse to ignore the white man's distress.  But that's not what he did.
Smith gently took the man's arm, and slowly walked up him the steps and into the air-conditioned State House, murmuring reassurance and encouragement.
Photos of the two men went viral on the media.  When asked why he thinks the photos were so impactful, Smith responded, "Love.  I think that's the greatest thing in the world-  love.  And that's why so many people were moved by it."  (Read the full New York Times report of the incident HERE)
If a black man can show compassion for a white supremacist, then surely we can love each other in spite of our political differences.  I call that radical love.  I challenge you this week to go out of your way to show radical love to someone who has hurt you, or someone whose political views are abhorrent to you.